English Only Rule and 2003 New Programs
source : Shafston International College



Shafston International College 'English Only Rule' gets tougher!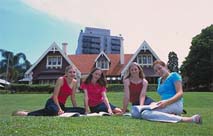 All ELICOS students at Shafston are expected to only ever use English on campus. This is strictly enforced in the classroom by the '3 strike rule'. If a student speaks in their mother tongue they are given 2 warnings, the 3rd time they will have to leave the class for the remainder of the lesson. In force NOW!

Centre for Information Technology at Shafston Institute of Technology Appoints Local IT Legend.
The University of New England @ Shafston and Shafston Institute of Technology continue to expand their range of courses. Mr Roy O'Malley is now the Director of the Centre for Information Technology at SIT. Roy has had over 30 years experience in education and was most recently the director of a well known local VET college with over 3,500 students.

From February 2003 SIT's Information Technology Centre is running the following IT diplomas:



Network Engineering


Business Analysis (E Commerce)


Software Development

(Object Oriented Programming)


Software Development (Databases)


Multimedia Integration

Wireless Internet Access
Shafston now offers high speed WIRELESS internet access to all students. Students with their own laptop computer simply need to register with our IT Department (Rm 209) who will take them through the simple setup process. Once they have registered they will be able to logon to the internet via their own laptop at any time they are on campus - no cables required! As we are using state of the art equipment the speed is very high - around 11mb/sec. Cost $5/week (unlimited high speed remote access).



Download 2003 Application Form (PDF Format, 102K)



For more information, please contact the school:

46 Thorn Street,Kangaroo Point,
Brisbane QLD 4169, AUSTRALIA
Tel:+61 7 3392 1400 Fax:+61 7 3391 0943
info@shafston.edu