CLC Expands Successful Family English Program
source : The Hawthorn English Language Centres

Canada Language Centre has announced that the Family English program will now be offered year-round. While parents study at Canada Language Centre, attend to business, or sightsee, children aged 9 to 12 can study English in this program.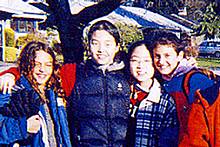 Youth Programs Coordinator, Tanja Imhoff, says, it's exciting to see the demand for this program increase.
"Parents are recognising the value of providing their children with the opportunity to learn English at a young age. This gives them the skills, experience, and exposure to other cultures that they need to be successful later in life" she said.
Designed to upgrade younger students English ability, class size is kept to a maximum of 12 children to ensure optimal learning conditions. Lessons are designed specifically for the needs of younger learners. The morning classes cover reading, writing, speaking and listening, and are designed to improve fluency by interacting in pairs and small groups. The afternoons are devoted to educational field trips and class projects.
This winter students have visited the Vancouver Aquarium and Science World. They have also been to a magic show, have gone tobogganing and ice-skating, and will soon be going to Whistler where they will have a full day of ski lessons.
For more details about our youth programs, please contact Tanja Imhoff at t.imhoff@hawthornenglish.ca