UQ Wins Best Teaching and Learning Package
source : The University of Queensland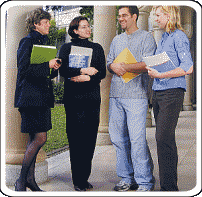 UQ's Educational Multimedia Services (EMS), has won the award for Best Teaching and Learning Package - Tertiary, at The Australian Awards for Excellence in Educational Development Institute (TEDI), also made the shortlist in the Tertiary - Website category for its WebCT site.

The winning entry, "Magnetic Resonance Technology", was developed in collaboration with Dr Graham Galloway of UQ's Centre for Magnetic Resonance, with additional input from the Department of Physics.

It is a postgraduate program conducted entirely as flexible distance education, using a series of materials on CD-ROM, a website and an online mailing list.

All four core subjects of the postgraduate program, plus a further seven elective subjects, are to be delivered on CD-ROM, thanks to the Vice-Chancellor's Strategic Initiative Fund. The package uses animation and interactive simulations to explain, clarify and expand on both theoretical and highly technical content.

In its first semester of use the CD-ROM was used by students in Australia, Hong Kong and the UK, with further disks under development. It also received a highly commended rating in last years' ASCILTE2000 Awards for exemplary Use of Educational Technologies in Teaching and Learning in Tertiary Education at the ASCILITE Conference held in December at Southern Cross University, Coffs Harbour.

The shortlisted entry, Process Simulation and Control WebCT Site, was developed in collaboration with Diana Drinkwater and Andrew Schroeder, senior consultants with UQ's Julius Kruttschnitt Mineral Research centre (JKMRC).